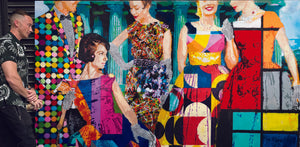 Spencer Couture Art Bio
Spencer Couture is a contemporary street artist who has made a name for himself in the world of urban art. Born and raised in Boulder, Colorado, Spencer was introduced to graffiti in second grade, igniting his passion for art at an early age.
After graduating from high school, Spencer moved to San Diego to pursue his dreams of becoming a successful artist. He worked several jobs, including valet, concierge, and VIP host at nightclubs, all while honing his craft in his free time. Spencer spent countless hours painting on fire escapes and in parks, developing his unique style and refining his technique.
In 2015, Spencer began throwing art parties in San Diego, which quickly gained a massive following. His parties were an opportunity for people to come together and enjoy music, dance, and art, all in one place. This success inspired him to open a small gallery at the high-end Pendry hotel.
After several years in San Diego, Spencer decided to move to Las Vegas to further his career. In the end of 2022, he opened the Spencer Couture Art Gallery located inside Mandalay Bay, a place where visitors can take pictures, videos, listen to music, and interact with the artwork. Spencer's signature style is characterized by his use of spray paint, which he uses to create bold and vibrant pieces.
Spencer's art is heavily influenced by the culture and energy of the streets, and he is known for his unique ability to capture the essence of the urban landscape. His works often feature vibrant colors and bold lines, which are combined to create stunning compositions that reflect the energy of the city.
Spencer Couture's art has been featured in galleries and exhibitions around the world. He continues to push the boundaries of street art and inspire a new generation of artists with his innovative and captivating work.
A true ode to his talent and love of art, Collins' real middle name, "Couture," was given to him in honor of his French Canadian great-grandmother. His moniker has since grown to become "Spencer Couture."